Our Story
Warren Emblidge, President/Owner of McCullagh Coffee, has practiced sustainability since childhood when he learned, as a Scout, to "leave the campsite better than you found it". His entire family has fully embraced the principles for living sustainably:
Decrease your carbon footprint
Don't compromise future generations and
Accept the natural limit of our earth's resources.
McCullagh's introduction to genuine sustainability practices in our business occurred in 2007 at the Rainforest Alliance 20th Anniversary Celebration. The Rainforest Alliance™'s   intellectual framework, guiding principles and implementation practices compelled Warren to formally adopt the mission to make McCullagh a genuinely sustainable enterprise by our 150th Anniversary.
His first challenge was to holistically address the coffee product line; where the most damage to the environment can occur. He chose to adopt "best practices", not only in the sourcing but in the production and packaging of his coffee.
Despite many obstacles, the McCullagh team was able to
Eliminate oil based film and replace it with a non- Genetically Modified Organism compostable one
Develop processes that encapsulate ground coffee with natural flavoring in order to lower the environmental impact by reducing the beans required by 20% per cup
Source exclusively from Rainforest Alliance ™ Certified plantations
Utilize Sustainable Forest Initiative (SFI) Certified outer cartons
Utilize only Soy based inks for printing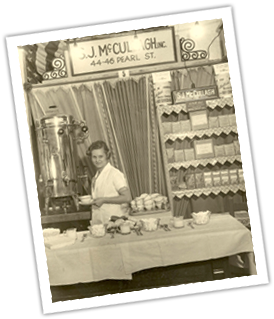 As a result they have collectively solved the most vexing, environmental and social problems facing the production and distribution of coffee today.
After years of dedicated developmental effort, McCullagh is proud to offer Ecoverde coffees as a new addition to their 140 years of roasting expertise.
Ecoverde – An economically, environmentally and socially sustainable choice!