sustainability
Our Initiatives
What are we doing? At McCullagh we have a deep and passionate commitment to continue to advance sustainable practices in every facet of our business. We believe we have the responsibility to address sustainability on multiple fronts and have pledged to become a sustainable business by our 150th birthday. View our pledge to learn more.
Pushing ourselves to continuously improve our business practices is a never-ending commitment. In addition to developing our complete Ecoverde line of coffees, we celebrate some of our many successes as part of this journey:
Our Vehicles
We have replaced our fleet of delivery vehicles with fuel-efficient vans,
allowing us to reduce usage of gasoline.
We plan our delivery routes to minimize miles driven on a daily basis.
We set a minimum order size to maximize the efficiency of each stop on our routes.
Our Facility
We buy locally whenever we can.
Reduced our electric usage by replacing our lighting system.
We paint our facility with only low emission paint.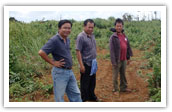 Our Business
McCullagh is working with farmers in Champasek Province, Laos to provide funding to help them in the difficult periods before selling their coffee at harvest. This Money Advance Program has been able to help over 250 Laotian farmers in 2011. McCullagh is working hard to assist these farmers to learn and implement best coffee practices, including planting, harvesting, sun-drying and semi-milling coffee beans.
Who do we work with?
Sustainability isn't something we can do on our own. We are active participants in many of the efforts underway both locally and globally.
Founding member of Upstate Green Business Network
GROW WNY
Member of Walmart's Sustainable Value Network (SVN)